From Workbench to Innovator? What IP Insights Reveal About China's Role in the Manufacturing Equipment Industry
China has been renowned for decades as the world's workbench, manufacturing and exporting goods to meet the ever-growing global demands. According to US Government statistics, the US domestic manufacturing industry lost 2.8 million jobs as a result of growth in imports from China. And the extent to which global markets depend on China became extremely clear when factories in China temporarily closed in 2020 due to the global pandemic, and the disruptions caused were felt worldwide.
Given this level of dependency on a singular source of manufactured products and its significant impact on the world, it is helpful for decision makers to be informed about all the aspects of the manufacturing equipment industry landscape, including the intellectual property (IP) behind the technology being used.
In this blog, we will delve into the development of the global manufacturing engineering innovation portfolio over the past decades and analyze the growth of China in this context. Insights from patent analytics are used to understand the impact of Chinese companies' growth on international players and study their responses.
What patent data signals for the growth of manufacturing engineering in China
Patent data is an incredibly helpful tool for understanding the complex competitive landscape in innovation and technology, as it provides forward-looking information on inventions, owners, inventors, and even identifies other companies working on similar technologies.
To get a clearer understanding of intellectual property (IP) ownership of companies in manufacturing engineering, we identified global companies that owned more than 1000 patent families. Figure 1 below shows how the share of Chinese inventions in the manufacturing engineering space has constantly grown since the early 2000s.
Interestingly, the rise in Chinese inventions in the manufacturing equipment sector only has impacted the inventions made by companies in Japan and the United States, as seen in the obvious reduction in patent filings from these countries in the chart. At the same time, the share of inventions in all other jurisdictions has remained relatively stable throughout this period.
Figure 1: Regional patent filing trends of Japan, USA, China and others (rest of the world) in manufacturing equipment related technology.
China is turning into a knowledge hub and maybe a global powerhouse in manufacturing engineering. The more influential Chinese inventions will become in this engineering sector the more will traditional global players depend on Chinese know-how.
Is the Chinese market considered by non-Chinese inventors in manufacturing engineering?
China itself is an ever-growing market. To understand if other global players consider China as an active business opportunity, we looked at the year-over-year growth of manufacturing engineering patent portfolios active in China and found that the growth is remarkable.
The graph below clearly shows that the share of active patents in China has surged significantly over the past two decades, increasing from just 6% to over 40%. This increase is in concurrence with China's disruption of the global manufacturing sector during the same period as well as a sign of other large global players potentially protecting their intellectual property assets in the Chinese market.
Figure 2: The trend of increasing patent filings in the Chinese manufacturing equipment technology space over the past 20 years.
The IP strategies from international manufacturing engineering companies
An analysis of the individual company portfolios can reveal potential strategies from the international manufacturing engineering community. Recognizing the risks and opportunities served by China's evolving engineering landscape, some of these international players seem to have taken proactive measures to protect their IP.
As seen in the chart below, not all companies are following a similar approach to China's growing manufacturing market. Some, like Fanuc, a Japan-based manufacturing equipment maker, are protecting a majority of their portfolio in China, reflecting their commitment to the Chinese market. As of writing this blog, Fanuc has about 80% of its portfolio protected by patents active in China. In contrast, Rockwell Automation, a peer from the United States, only has about 30% of patents in their portfolio active in China.
An increase in demand for manufacturing equipment in China, coupled with a growing local supply side, creates the space for local players to take advantage of inventions made by companies like Rockwell Automation. Not filing for patents in China leaves their technologies vulnerable to infringement without being able to respond. Missing to file a patent in a business-critical market is an IP manager's nightmare.
Figure 3: International manufacturing euipment companies and there share of portfolio protected in China.
Challenges that lay ahead for Chinese and international companies
The rapid growth of China's manufacturing industry and its increasing importance in global supply chains present both opportunities and challenges for Chinese and international companies alike.
For Chinese companies, the main challenge lies in nurturing a sustainable and innovative ecosystem that goes beyond manufacturing prowess. It is crucial to foster a culture of originality, incentivize research and development, and establish effective IP protection measures. Additionally, Chinese companies must strive to enhance their reputation for quality and innovation to compete with established international players.
International companies face the challenge of navigating China's unique business landscape, including IP rights protection, market access, and competition from local firms. It is essential for international players to understand and adapt to the evolving dynamics of the Chinese market while effectively protecting their IP.
For the decision makers at these companies, the challenges range from being aware of the next disruptive invention to knowing where to protect their invention before they are left behind in the wake. With advanced analytics solutions like LexisNexis® PatentSight®, patent professionals can leverage reliable data and easy-to-understand visualizations to derive and present actionable and valuable insights that inform business strategy. These insights have been proven invaluable to strategic decision makers, who are non-patent experts, like CEOs, CFOs and other stakeholders at several international leaders. From experience, working with some of the pioneers in innovation across the world, we understand that maintaining a successful innovation portfolio requires extensive research, including benchmarking your technology against other industry leaders, spotting gaps in your R&D strategy that can be resolved with an acquisition, etc. Insights from patent analytics can significantly reduce risks for international companies trying to make an impact in China and help them be more precise with their strategies.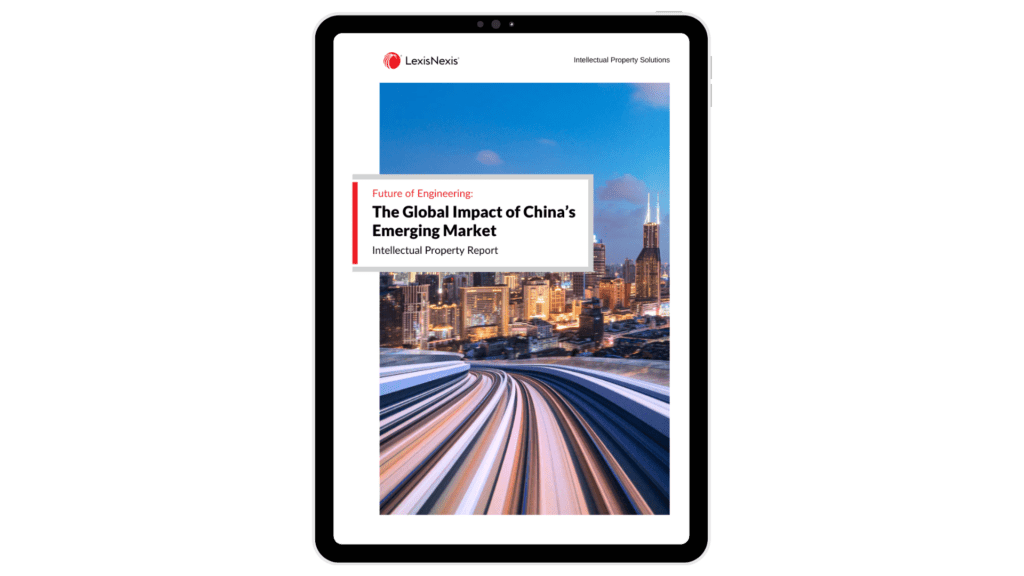 Patents illuminate China's rising Engineering dominance and its impact on global innovators
Our deep dive into the data reveals clear trends about the future of Engineering and how international players are reacting to the growing Chinese influence.
Get insights into different Engineering sectors, including Aviation, Energy, Manufacturing Equipment, Railway and Ship Building, Civil Engineering, and more.
Want to know how your company stacks up against Chinese competitors? Click here to schedule time with our experienced analysts to get a deep dive into your industry and competition.
Was this post helpful?
Let us know if you liked the post. That's the only way we can improve.