How Do International Aviation Companies Measure Up to the Increasingly Competitive Chinese Market?
Our previous blog in this series describes how the Chinese aviation industry has experienced tremendous growth in recent years, both commercially and in intellectual property filings. Using insights from patent data, we showed you how big a gap there is between the historically dominant international aviation companies and their Chinese counterparts when filing patents in China. But understanding the specific differences or similarities in the quality of technologies being developed requires further in-depth analysis.
In this blog, we will compare the patent portfolios of some leaders in the Chinese aviation industry against those of the international aviation players. We highlight the industry's development in China and show you how the Chinese aviation players hold up against their international peers in a qualitative comparison. Our analysis stresses the importance of the Chinese market for global aviation industry leaders.
Development of the Chinese aviation technology space over the years
Along with the growth in the economy, the Chinese aviation industry has experienced a remarkable expansion in the past decade. According to news sources, the number of civil airports in China has increased from 175 in 2010 to 260 in 2020, and the number of passengers they handle also has doubled from 320 million in 2012 to 660 million in 2019. A similar growth trajectory can also be observed in the number of patents filed by Chinese aviation companies.
In our analysis with LexisNexis® PatentSight®, as illustrated in the charts below, we can see that Chinese aviation players' patent portfolios have developed from less than 3% of the global aviation patent holdings to 20% in the last ten years.
Looking only at the increase in volume of patents and assuming China to be a dominant player, is not a well-informed conclusion. To really understand the impact of the technology these companies are developing, we need to gauge the quality of the portfolio. Using our scientifically developed and industry proven patent quality measurement metrics we can create a more holistic picture of the aviation landscape to help us understand the differences between Chinese aviation companies and their international peers.
In the chart below, on the horizontal (X) axis is Portfolio Size measuring the number of patent families in the respective portfolio. And on the vertical (Y) axis is Technology Relevance, which measures a portfolio's technological impact.
One of the key takeaways from this chart is that the relative importance of the innovation made by the Chinese companies like CASC, NORINCO, CASI etc. is almost at par with those of the international aviation legacy players in this field like Airbus, Safran or Raytheon, as measured by our citation-based metric Technology Relevance. This means that Chinese companies are developing strong patent portfolios that can, maybe within a few years, catch up with the existing market leaders both in terms of quality and quantity.
The major Chinese aviation players (AVIC, CASC, AECC, China Aerospace Science & Industry, NORINCO Group) have quality and quantity on par with or exceed traditional international aviation global players like Rolls-Royce. Although not as extensive as the likes of GE and Boeing, these portfolios have developed quickly and continue to do so; it is still early days for the fledgling Chinese aviation players. However, they have made tremendous progress. Before long, they could be seen entering international markets with their aerospace solutions, which could disrupt the existing business of established global leaders. Using patent analytics to guide the way forward can make strategic decision making even more fruitful.
Looking to land in China? IP analytics for a smooth approach
As patents are the prerequisite for commercialization and an early indicator of innovation, engaging with a market force should always include IP analysis. And though patent data is publicly available, even seemingly simple questions, such as if a patent is still active or who ultimately owns the protected right, can be challenging to answer. Based on a refined and curated global patent dataset with clear information on the legal status, ownership and quality indicators, IP analytics can guide strategic decisions. Companies can benchmark their technology against other industry players, monitor market developments, spot trends early on, discover promising technology partners, identify acquisition targets, and decide operationally to enter or monetize the market by licensing their IP rights. The role of IP analytics is rapidly evolving. IP intelligence functions often report directly to the board or have a dotted line to the strategy department. Consulting companies and investors are increasingly interested in understanding patent data, and even regulatory bodies like the European Commission factor in patent analytics in anti-trust cases.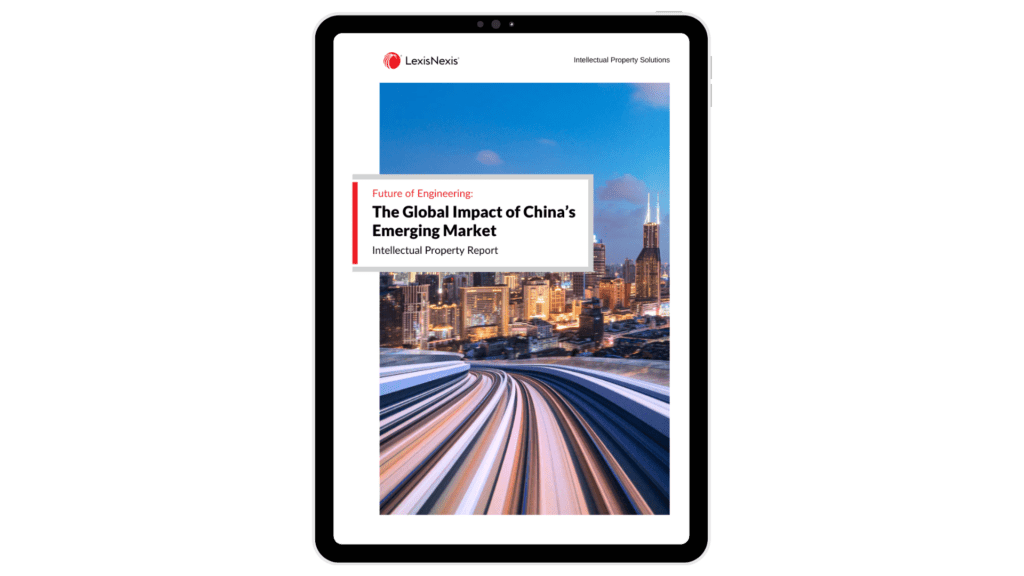 Want to better understand China's increasing dominance across the Engineering industry?
Download our Engineering intellectual property report, where data reveals clear trends about the future of Engineering and how international players are reacting to the growing Chinese influence.
Get insights into different Engineering sectors, including Aviation, Energy, Manufacturing Equipment, Railway and Ship Building, Civil Engineering, and more.
Was this post helpful?
Let us know if you liked the post. That's the only way we can improve.